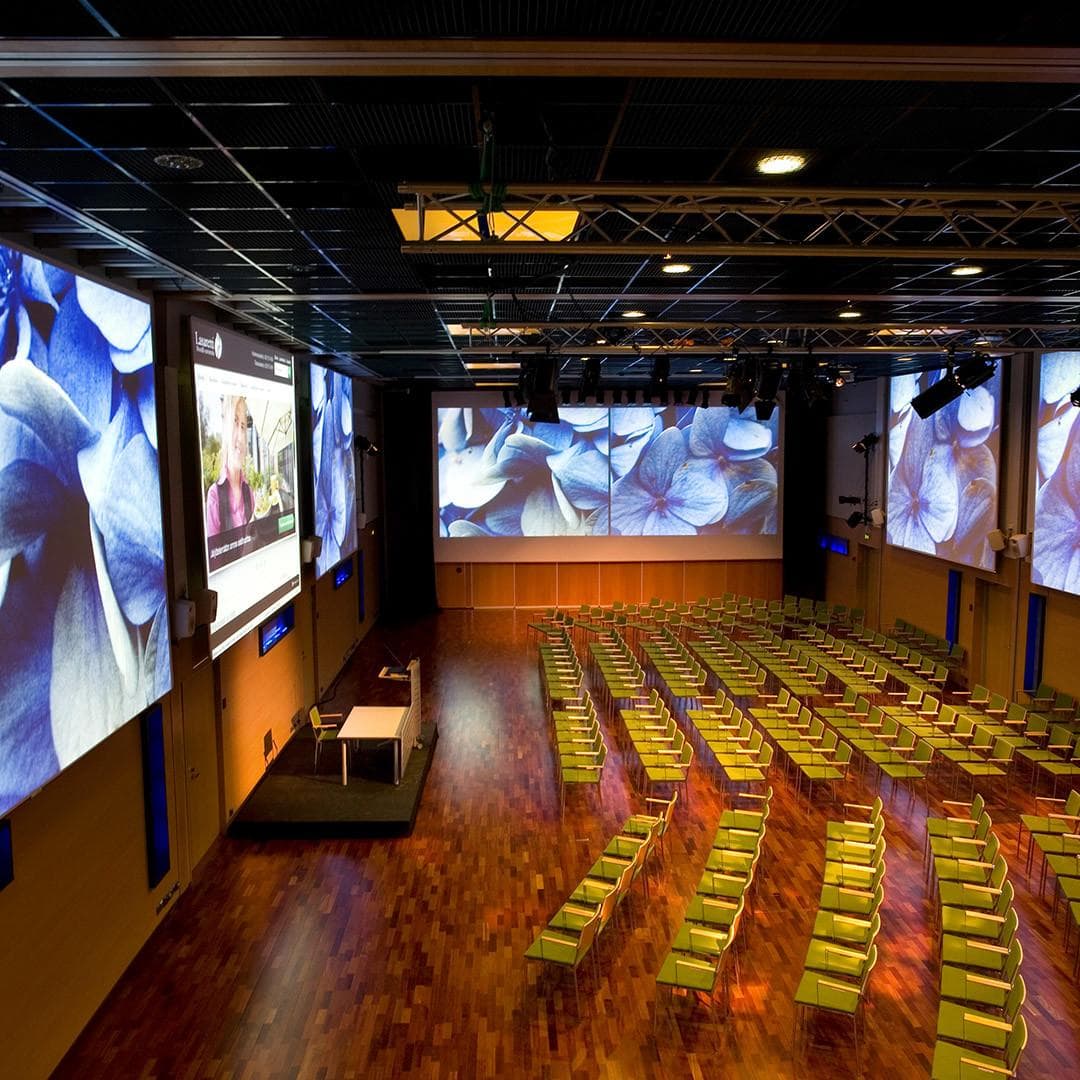 Venues Aurora-hall
Venue size:

333 m²

Meeting room:

60–340 persons

Ball room:

60–300 persons
Dazzling party venue
Equipped with an impressive presentation technology our spacious Aurora hall is a venue for grand occasions. The long tables seat 220 guests, the round tables 160. The white table cloths and the festive setting add the finishing touches to the atmosphere. For bigger events there are additional rooms that can be adjoined to Aurora Hall which enables seating as many as 550 guests.
For impressive events
The pride of Lasaretti, Aurora Hall, is also a meeting venue. With a capacity of up to 340 peo-ple, Aurora Hall is the most impressive meeting venue in Oulu. There are several works of video art in the hall which elevates the atmosphere of any event. Our sales team will help you to find the best solutions to suit your needs.
Meeting technology
Impressive presentations on the large screens
8 large screens (2 main screens and 6 side screens)
8 individually controllable projectors
Projecting also onto the floor
Fully adjustable lighting
Fixed RGB ceiling lights and LED lights, also wall-fitted
Theatre spotlights (profile projectors and mobile LED profiles)
The colour and intensity of the lighting can be continuously adjusted
High-quality sound system
High-quality multichannel speaker system
Built-in active speakers with subwoofers
Crystal-clear speech/programme audio
Wireless microphones
check out technical details
Take a look at Aurora's pieces
Table arrangements