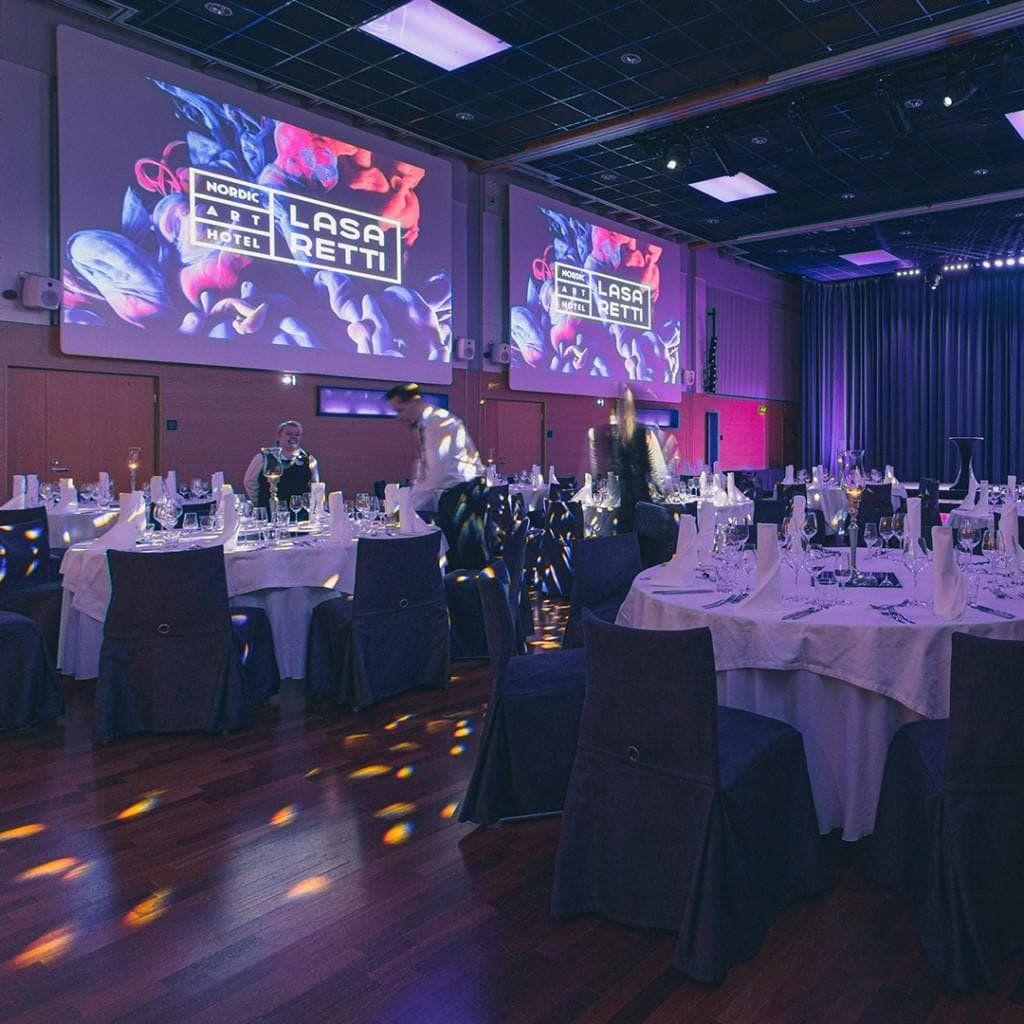 Aurora-hallAurora's Technology
Aurora Hall's versatile presentation technology enables high-quality visual display in a diverse range of events.
Aurora Hall's versatile presentation technology enables high-quality visual display in a diverse range of events.
Sound system:
Speech/programme audio in the entire hall through active speakers and subwoofers fitted in the ceiling. Speech/programme audio in a divided hall through active speakers fitted in the walls.
Sound processing:
Soundweb matrix and a Yamaha LS9-16 digital mixer.
Microphones:
Wireless and wired microphones and panel microphones.
Sound sources:
All of the most common formats
Projection and conference camera:
Simultaneous projection on a total of eight screens of which two are main screens and six are side screens. Nine projectors are used simultaneously (the ninth projects from the ceiling directly onto the floor)
Conference Camera:
Lumens VC-G50 HD-kamera
Screens:
Side screens 4700 (w) x 3500 (h)
Motorised main screen 9400 (w) x 4000 (h)
Motorised additional screens 4270 (w) x 4270 (h)
Control system:
The technology in the entire hall is controlled via an AMX NI-400 controller. Atmospheric/decorative/panorama images can be sent to the projectors. The system supports the most common image, video and audio formats.
The signal distribution in the hall is controlled by AMX's Enova DGX 32 digital media switcher.
Picturall Octo media server:
Displays multimedia on the desired screens from a single media server. An extensive image bank is available to liven up events and enrich presentations. You may also use your own image material, depending on the meeting/technology package that you choose.
The Picturall Octo media server and the multichannel sound system in the hall allow the customer to enjoy the versatile possibilities of visual and audio media.
Lighting:
In addition to LED lights, the fixed lighting consists of ceiling lights using the RGB technology (continuous modulation of colour temperature) and wall-fitted LED lights (whose colour may also be changed). Theatre spotlights may be hung separately on beams and trusses that can be lowered (e.g. Multiform Multispot RGB LED spotlights, ETC Source Four LED profiles,
Martin MAC Quantumn Profile mobile LED profiles, Multiform CoboBar RGB LED spotlights)
Lightning Control:
ChamSys MagicQ PC Wing
Fixed technology:
The technology available in Aurora Hall enables you to create presentations that are rich in experience without having to bring in technology from elsewhere and install it. All of the essential equipment to reproduce the content that you wish for are available on site.
The fixed technology of Aurora Hall includes e.g. the following equipment: a CD/DVD/Blu-ray player, a PC computer (with high-speed internet access), a sound system, a flipchart. Internet access using your own computer via the wireless Silmuvieras network (the computer must be WLAN ready).